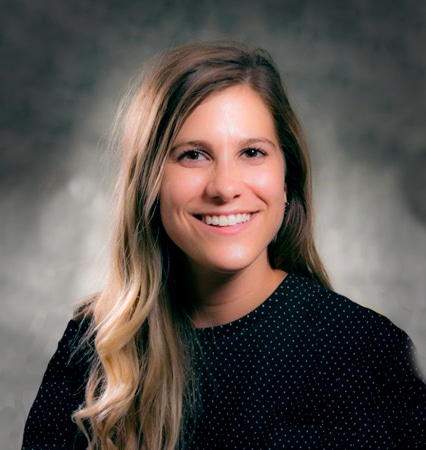 Jazmine Nesvik, DO, is a board-eligible dermatologist with Alomere Health. A fourth-generation Alexandria native, Dr. Nesvik was born and raised right here in our community. Growing up, she was active in dance and snowboarding. She graduated from Jefferson High School in 2008, then went on to get her Bachelor of Science from the University of St. Thomas in St. Paul, MN studying both neuroscience and Spanish. After working as a medical scribe, pharmacy technician, and nursing assistant for 2 years, Dr. Nesvik moved to Tennessee to obtain her Doctor of Osteopathic Medicine from Lincoln Memorial University-DeBusk College of Osteopathic Medicine where she stayed active with volunteerism, national and local leadership roles, and a medical mission trip to Honduras. After completing medical school in 2019, she went on to complete both her Traditional Rotating Internship and Dermatology Residency at Northeast Regional Medical Center in Kirksville, MO, graduating in 2023.
Dr. Nesvik is passionate about rural medicine and serving her home community of Alexandria and the surrounding areas. She is interested in the prevention and treatment of skin cancer. Aside from standard dermatological surgery, she also performs Mohs surgery, a specialized type of surgery for removing high-risk skin cancers. She particularly enjoys treating acne, psoriasis, and hidradenitis suppurativa, believing that these conditions can profoundly impact a person's confidence and quality of life and that improving these conditions can be life-altering. She is happy to offer treatment with biologics, isotretinoin, and other medications necessary to treat these and other impactful dermatologic conditions. Dr. Nesvik is motivated to provide high-quality, patient-focused, compassionate care to her patients and working to find affordable and effective personalized treatment options.
Outside of work, Dr. Nesvik enjoys spending time with her husband, Tyler; daughter, Chevelle; and friends and family. She stays active exercising, paddleboarding, snowboarding, and enjoying the outdoors (with sun protection, of course!).
Accomplishments:
Awards:
-Best Clinical Research Presentation, 14th Interdisciplinary Biomedical Research Symposium, November 2022
-Rising Derm Stars Competition for Residents, Miami FL, January 2023
-Rising Derm Stars Competition for Residents, Kauai, January 2022
-Best Resident Research Presentation, 12th Interdisciplinary Biomedical Research Symposium, November 2020
-Intern of the Year, Northeast Regional Medical Center, 2020
-Above and Beyond Award, House Staff Meeting, July 2020
-Silver T.O.U.C.H. Award, community service and volunteerism, 2015-2017
-Student Doctor of the Year Nominee, COSGP, 2017
-Student Doctor of the Month, February 2016
Honors:
-Sigma Sigma Phi National Academic and Service Fraternity, Inducted 2019
-Omega Beta Iota, Osteopathic Political Action Honor Society, Inducted 2016
Leadership:
-Dermatology Chief Resident, 2022-2023 -ACGME Committee Dermatology Representative, 2022-2023
-Well-Being Committee Dermatology Representative, 2022-2023
-National Liaison Officer and Interim Present, Student Osteopathic Medical Association (SOMA), 2016-2017
-First Year Liaison, SOMA, 2015-2016
Publications:
– "A Hair Loss Pandemic: 19 Cases of COVID-19-Induced Telogen Effluvium," Journal of Clinical Images and Medical Case Reports, 2022, DOI: www.doi.org/10.52768/2766-7820/2152
– "Vitamin A Toxicity", StatPearls, 2021
– "Microtubule Assembly Inhibitors (Griseofulvin)," StatPearls, 2021
– "Spanish for Osteopathic Physicians," 2016