Alomere Health: a Top 20 Rural and Community Hospital.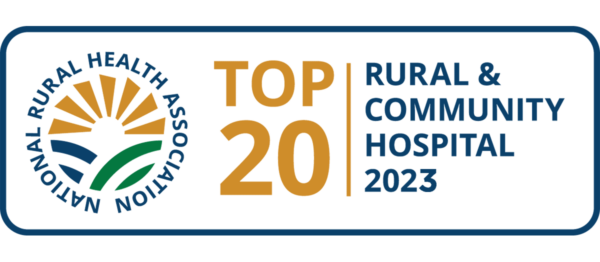 The National Rural Health Association has named Alomere Health as one of the Top 20 Rural & Community Hospitals in the nation.
Alomere Health is the first Minnesota hospital to ever garner this honor in the Top 20 Rural and Community Hospital category! Previously, Alomere Health has been named a Top 100 hospital four of the past six years.
Top performers are recognized as excelling in managing risk, achieving higher quality, securing better outcomes, increasing patient satisfaction, and operating at a lower cost than their peers. These groups serve as a benchmark for other rural facilities as they strive to achieve similar results and provide a blueprint for successfully navigating the uncertainty of the new healthcare. 
We are humbled to receive this recognition and extremely proud of the commitment of all our staff and physicians to achieving national standards for quality and safety which is instrumental to achieving this designation.
As your community hospital, we will remain steadfast in our cultural drive to continually improve as we plan for the future and look for opportunities to further expand our services as a regional destination for healthcare. All of us at Alomere Health are grateful for the privilege to serve you and we appreciate the trust and confidence that you have placed in us.
Carl Vaagenes, CEO
Alomere Health
The National Rural Health Association (NRHA) announced the recipients of the Top 20 highest-ranked rural and community hospitals in the nation based on an evaluation by the Chartis Center for Rural Health. The hospitals are identified using the Chartis Rural Hospital Performance INDEX, the most comprehensive and objective assessment of rural PPS hospital performance. The determining factors for the top 20 rural and community hospitals are based on eight indices: inpatient market share, outpatient market share, quality, outcomes, patient perspective, cost, charge, and finance. 
Award recipients will be recognized May 18 during NRHA's Rural Hospital Innovation Summit in San Diego, Calif.
About Alomere Health 
Alomere Health is an independent non-profit, locally governed and nationally recognized health system serving the community of Alexandria, Minnesota, and the surrounding central Minnesota region through a network of providers, services, locations, and solutions, including: 
• A 127-bed regional hospital with a Level III trauma center, a comprehensive inpatient and outpatient medical facility, and state-of-the-art surgical center with the largest rural robotic surgery program serving the central Minnesota region 
• Multi-specialty clinical practices with 80+ expert physicians and specialized healthcare providers across 28 specific medical fields. 
At Alomere Health, we're passionate about being a high-quality regional hospital that is an integral part of the communities we serve. We are committed to serving you well and exceeding the expectations of what healthcare can be. We make our mission, vision, and values paramount to everything we do to serve the needs of those who rely on us. 
Our Mission 
Our passion and purpose is to strengthen and nurture the health and well-being of our family, friends, neighbors, and communities through every season of life. 
About NRHA NRHA is a nonprofit organization working to improve the health and well-being of rural Americans and provide leadership on rural health issues through advocacy, communications, education, and research. NRHA's membership consists of diverse individuals and organizations, all of whom share the common bond of an interest in rural health. 
About Chartis Chartis is a comprehensive health care advisory firm dedicated to helping clients build a healthier world. Work is facilitated across the health care continuum with more than 600 clients annually, including providers, payers, health services organizations, technology and retail companies, and investors. Through times of change, challenge, and opportunity, Chartis advises the industry on how to navigate disruption, pursue growth, achieve financial sustainability, unleash technology, improve care models and operations, enhance clinical quality and safety, and advance health equity. Teams convened bring deep industry expertise and industry leading innovation, enabling clients to achieve transformational results and create positive societal impact. For more information, visit www.chartis.com.