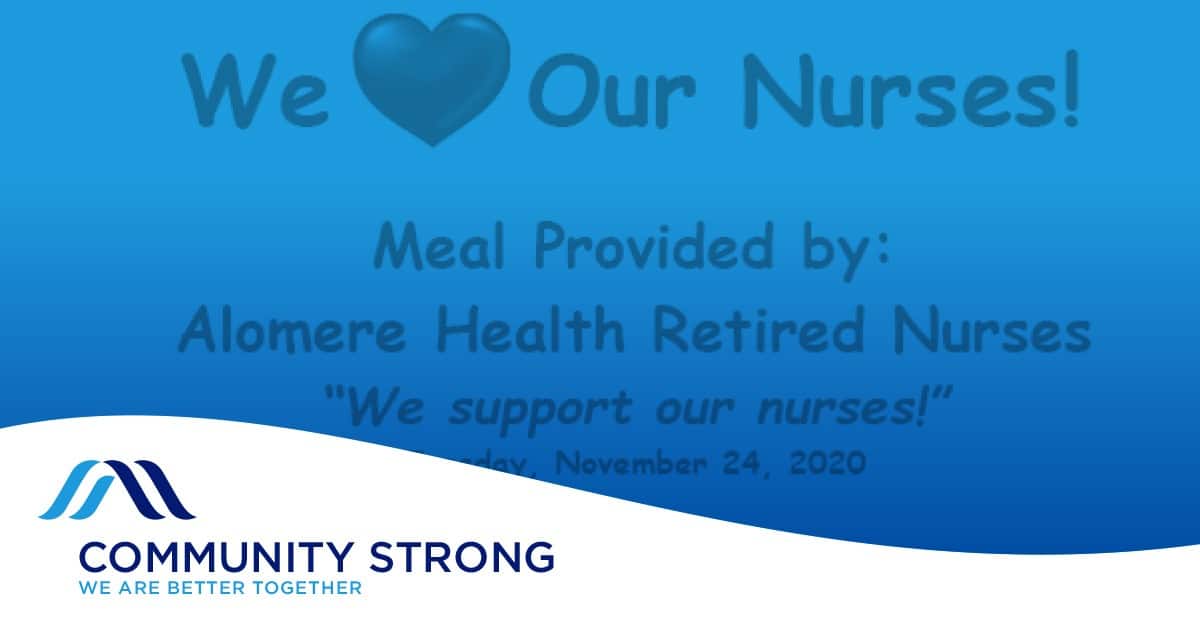 A Meal Provided by Alomere Health Retired Nurses
A special thank you goes to the 54 retired Alomere Health nurses who donated meals to all of the nursing units and shifts at the hospital on Tuesday, November 24th. Approximately 170 meals were provided to Nurses, HUCs, Patient Sitters, PCAs, etc. A thoughtful gesture from our fellow retirees and a day-brightener for all our healthcare professionals who received a meal.
"We support our nurses!" – Retired Alomere Health Nurses who donated:
Mary Nylund, Medical
Anne Nyberg, ICU
Karen Thul, OR
Heidi White, OR
Karen Lindley, OR
Liz Staples, ER
Pat Denke, ER
Donna Felt, Surgical
Ruth Steffl, ICU
Marlis Costello, NS
Joan Peterson, Medical
Vickie Schauland, PACU
Deb Stitch, Surgical
Dawn Gillespie, Surgical
Jill Kohler, Surgical
Sue Paulson, Surgical
Lu Johnson, OB
Brenda Miska, ICU
Kathy Moe, ICU
Brenda Moe, ICU
Dana Lauer, PACU
Corliss Nelson, Surgical
Georgia Dalum, Medical
Jean Deuel, Medical
Ginny Cohrs, Instructor
Cheryl Capp, Instructor
LaRae Ziegelmann, Instructor
Sharon Radach, Medical
Marilyn Ingebrigtsen, ER
Pauline Trandahl, PACU
Jan Wilson, OR
Jean Connell, ER
Barb Schneider, Surgical
Renee Baer, ASU
Jean Yarke, ICU
Martha Esbjornson, Surgical
Connie Amundson, Medical
Sandy Normand, ICU
Barb Orning, ICU
Mary Ellen Lyman, OR
Marilyn Raske, OR
Julie Barnack, ASU
Sherilynn Englund, NS
Jane Sirek, OR
Padi Leedahl, OR
Lori Kulas, OR
Paula Glade, OB
Rosie Lotthammer, Surgical
Mirium Thornquist, ICU
Kristi Mounts, ICU
Meg Jones, OB
Marge Hedlund, Surgical
Jennifer Rentz, Cardiac Rehab
Sharon Karvonen, Medical
Pictured below: Some of the healthcare professionals who received a meal on Tuesday, November 24th.