Respiratory Therapist of the Year!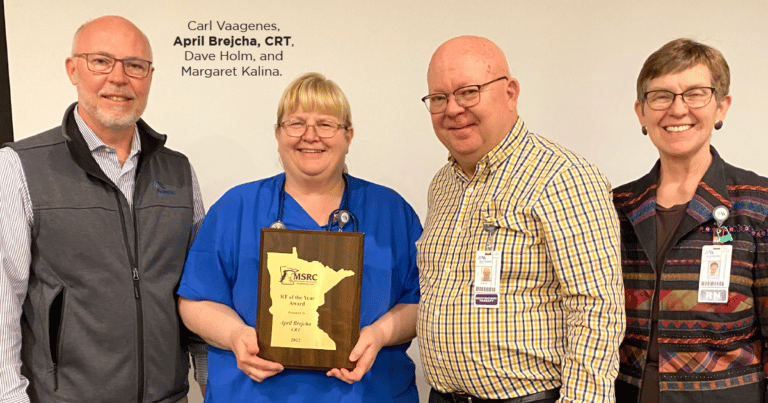 Spotlight: April Brejcha, CRT.
Retiring this year from her 43-year career at Alomere Health, April was given the 2022 Respiratory Therapist of the Year award from the Minnesota Society for Respiratory Care. "That was a total surprise," says April. Yet to anyone who knows her, it was an honor many years in the making.
Early Years
Her first experience with health care came at an early age when she volunteered at the hospital in her early teens. The Health Occupations Program offered through Jefferson High School gave her even more insight. Health care agreed with her, so she enrolled at Anoka Technical College to get a certification in respiratory therapy. She finished school on a Friday, and started at Alomere the following Monday—and stayed for over four decades.
Starting out with only a year of schooling and only $4.50 an hour, it's turned into an awesome career for me!
April Brejcha, CRT
Alomere Health
Core Values
Over the years, April has seen a lot of change. The department's technology has improved dramatically, and the size of the hospital has grown as well. Yet she is quick to point out, that the values that make a good team don't change, "Everyone here really knows their jobs and can be counted on in an emergency–which is important, because one minute you're working on routine therapy for a patient, and the next you're responding to a code blue in the ER." This trust built over the years has made her friendships with colleagues very close. Teaching CPR has also allowed her to make a lot of friends in the community. And yet, those friendships made it difficult to do her job during COVID.
It was hard to put breathing tubes in people you know and care about. During the first surge, many of those people didn't come home.
April Brejcha, CRT
Alomere Health
Retirement Plans
In retirement, April has plans to spend more time with her family, a road trip this fall with close friends, and hopes for touring Alaska next year. She'll stay active if her husband's retirement is any indicator of their commitment to the community. "He has 7 part-time jobs," says April, "a first responder here in Alex, a safety officer at a construction company, he oversees security for the local race track, drives semi-trucks, teaches policing at Alex Tech, he's on the Fair's board, and works as a security guard at Alomere Health one day a week." April is happy her husband is so industrious, because when he was pursuing his degree in law enforcement, "That's when we first met, he had a job driving the ambulance here at the hospital."
Amazing Impact
Looking back over her long career, she will miss her friends at work the most, "They've become an extension of my family." When asked what part she is most proud of, she replies with the idea that she and her team, "…really helped people." It's safe to say, with her years of teaching CPR in the community combined with her years at the hospital, April Brejcha has saved countless lives. From all of us at Alomere Health, thank you April for your selfless commitment to the community. We will miss you but wish you a wonderful retirement.
---
Want to join our award-winning team? Visit our Careers page to view all of the open positions and learn more about working at Alomere.